Health services at Highbrook Medical Centre
Here at Highbrook we provide a wide range of medical services for the entire Highbrook community. We're handy to your workplace, support your total wellbeing, and we offer checkups, vaccines, contraception, lab results online and so much more.
Covid symptoms? Get tested on site – just give us a call and book it in. We can administer your Covid-19 test here at Highbrook. We'll ensure your test is administered safely and quickly.
Our team can help you plan for health care in the future and at the end of your life. Planning means you get the care you want, even if you can no longer explain it yourself.
Protect yourself with a regular cervical smear – for all women aged 26 or over. Our nurses take your smear and you get a result in around two weeks. Early detection saves lives, so get checked!
Protect yourself and your loved ones with a vaccination against coronavirus. Nip into the clinic or vaccinate your whole workplace – support your team's wellbeing.
Do you need a medical check to get your drivers licence? Pop in and see our supportive team of medical professionals and we'll take care of it.
Spot heart problems and check the health of your heart with an ECG. Painless and simple to administer, an electrocardiogram measures your heart's electrical signals.
Prevent pregnancy up to three days after having unprotected sex with the emergency contraceptive pill. Sexual health consultations are free for under 22s.
Don't fall prey to the flu every year – get a vaccine! FREE for eligible Kiwis, including those aged 65 or over. We also vaccinate as part of our workplace wellbeing services. Talk to us about a flu jab today.
For stronger bones, zoledronic acid can be administered intravenously. This takes around 30 minutes and improves your blood calcium levels and slows bone breakdown.
Get your lab test results online through our patient portal. Every lab test result is reviewed by our doctors and we will be in touch with you via phone if anything concerns us.
Treat verrucas and warts with an application of liquid nitrogen. Please get in touch with one of our supportive team and we can talk to you about the optimal treatment for skin problems.
Heart disease, asthma, muscle and joint conditions and diabetes – let us support you with long-term management of ongoing health conditions. We support you to get the best outcomes.
We're here to support your mental wellbeing. Our team has strategies and treatments to improve your mental health and total wellness.
Have you been injured at work, at home or playing sports? We can treat your injuries and provide the paperwork you need for ACC.
Affordable fees for minor surgery at our state-of-the-art medical centre. Let our team take care of you before, during and after your treatment.
Our friendly and experienced local physiotherapist is available to support you in managing your osteoarthritis for better long-term health.
We help our patients enjoy the maximum quality of life when they have a life-limiting illness. This includes managing pain, treating symptoms and supporting mental and spiritual health.
Need Pre-departure testing for travelling abroad? Get your medical clearance to travel today. We can supply Covid-19 past-positive certificates too.
Order any of your regular medications online with the click of a mouse, via the myIndici patient portal. Choose to pick up from our co-located pharmacy or from your local pharmacy.
Trained local providers provide education classes to support you in managing your diabetes, maintaining a healthy weight, reducing stress and living mindfully.
Contraception, sexual health advice and screening for sexually transmitted infections (STIs) like chlamydia and herpes. Don't forget – all sexual health consultations for any patients aged under 22 are FREE.
Going overseas? You may need some additional vaccinations. We make it easy to find out which vaccines you need and get them done quickly.
Our workplace medical services include visiting your workplace to assess health and safety conditions for everyone in your workplace. Support for your team's wellbeing.
Our workplace medical services include visiting your workplace to assess health and safety conditions for everyone in your workplace. Support for your team's wellbeing.
Improve your quality of life and your health with our lifestyle improvement workshops. Learn about eating well, managing stress, better sleep and healthy movement.
Feeling anxious and struggling to enjoy your quality time? When stress starts to dominate your life, mindfulness based stress reduction can help you reclaim  your positive feelings.
As part of our extensive workplace support service, we can provide onsite screening for your whole team. Get in touch to book in screening for your workplace – support your team's health.
Let us bring flu or covid vaccinations to your workplace. Support your team's total wellbeing with a vaccination programme provided on site. We make it easy to vaccinate your whole team in a single visit – an effective and safe way to protect their health.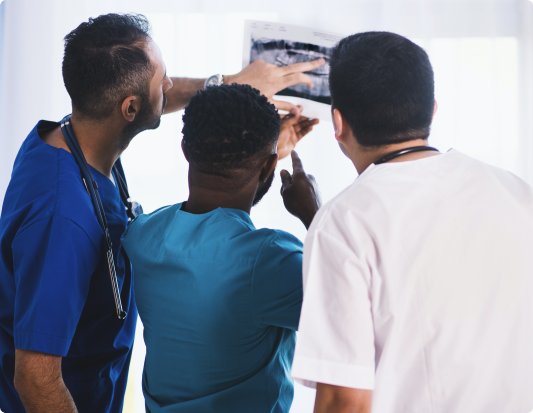 Our Medical Centre is part of the Highbrook Health Hub allowing easy access to a variety of health partners to support wellbeing in one easy location.