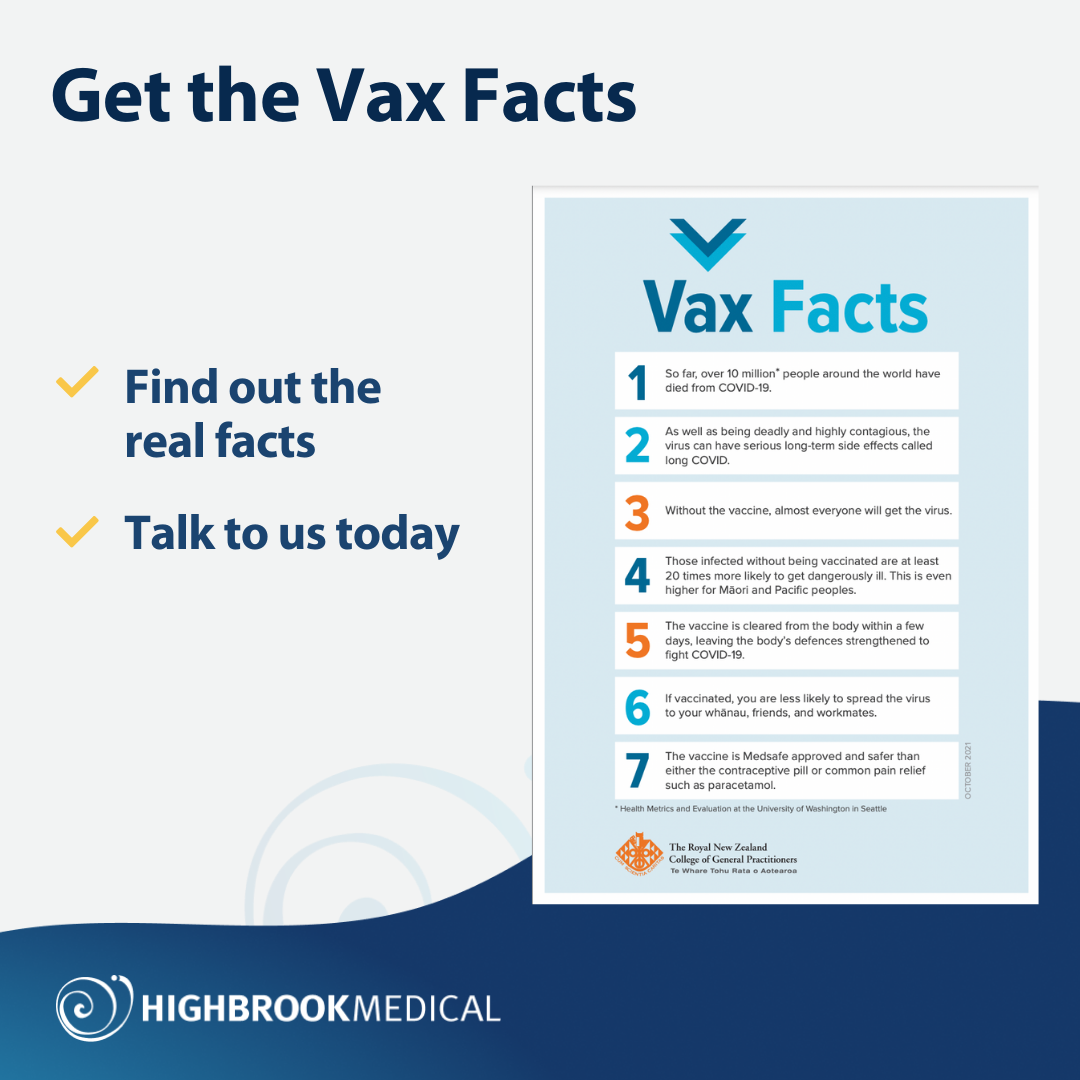 What are the Vax Facts? 7 Covid-19 Vaccine facts
If you have questions about the real Vax Facts, have a read of the official Vax Facts sheet. Covering 7 important facts, it's supplied by The Royal New Zealand College of General Practitioners, RNZCGP. Here are some FAQs commonly asked about Covid-19 in our South Auckland medical centre.
Is the Covid-19 Vaccine Safe? Here are the Vax Facts
Unsurprisingly, the top question we hear in our clinic is whether the Covid-19 Vaccine is safe.  Firstly, we're always glad to be asked any question and share information. Secondly, we can say with confidence that, Yes, it's very safe. It's Medsafe approved and actually safer than common medications you will be very familiar with!
What's safer than the Contraceptive Pill or common Pain relief? 
You guessed it – the Covid Vax is actually safer than the pill and paracetamol. We're happy to set your mind at ease in the same way we would with other safe medications.  The Pfizer vaccine is cleared from your body in a few days. For the short time the vaccine is in your system, it builds your immunity to learn how to fight Covid-19. But then, it will completely leave your body. All that's left is a stronger immunity.
Without the Vaccine will I get the virus?
As you know, the Covid virus is extremely contagious. In fact, it's expected that almost everyone who is unvaccinated will get the virus. Furthermore, stats show those infected without being vaccinated are at least 20 times more likely to get dangerously ill. These facts come from the Health Metrics and Evaluation at the University of Washington in Seattle. Also, Māori and Pacific peoples are at higher risk, according to a report by the New Zealand Medical Journal. (Māori and Pacific people in New Zealand have a higher risk of hospitalisation for Covid-19.)
Are there long term effects from Covid?
Long Covid is when people who have got Covid experience longer-term symptoms. They can be serious. To find more information visit our Covid Services page. 
Protect whānau from Covid-19 by reducing the spread
It goes without saying that stopping the spread of Covid is important. Getting vaccinated definitely the best way to reduce the chance of spread. If you're double vaxxed, it's far less likely that you will contract and spread it to more vulnerable tamariki, or those who have underlying health conditions. 
We're here to support your whānau
Got questions about the vaccination? We're here to chat. It's really important you get double vaccinated to protect yourself. Likewise, this includes everyone over the age of 12 in your family.
You can make a time to get your jab or to raise any concerns using the Patient Portal. If you aren't yet registered at our clinic, enrol today. We have some great doctors on our team who are open for enrolments. For instance, our new and well-respected South Auckland GPs, Dr Preetam Durshanapally and Dr Andrea Sievwright.
As always, find out more about the Vax Facts on the official MoH Covid site.