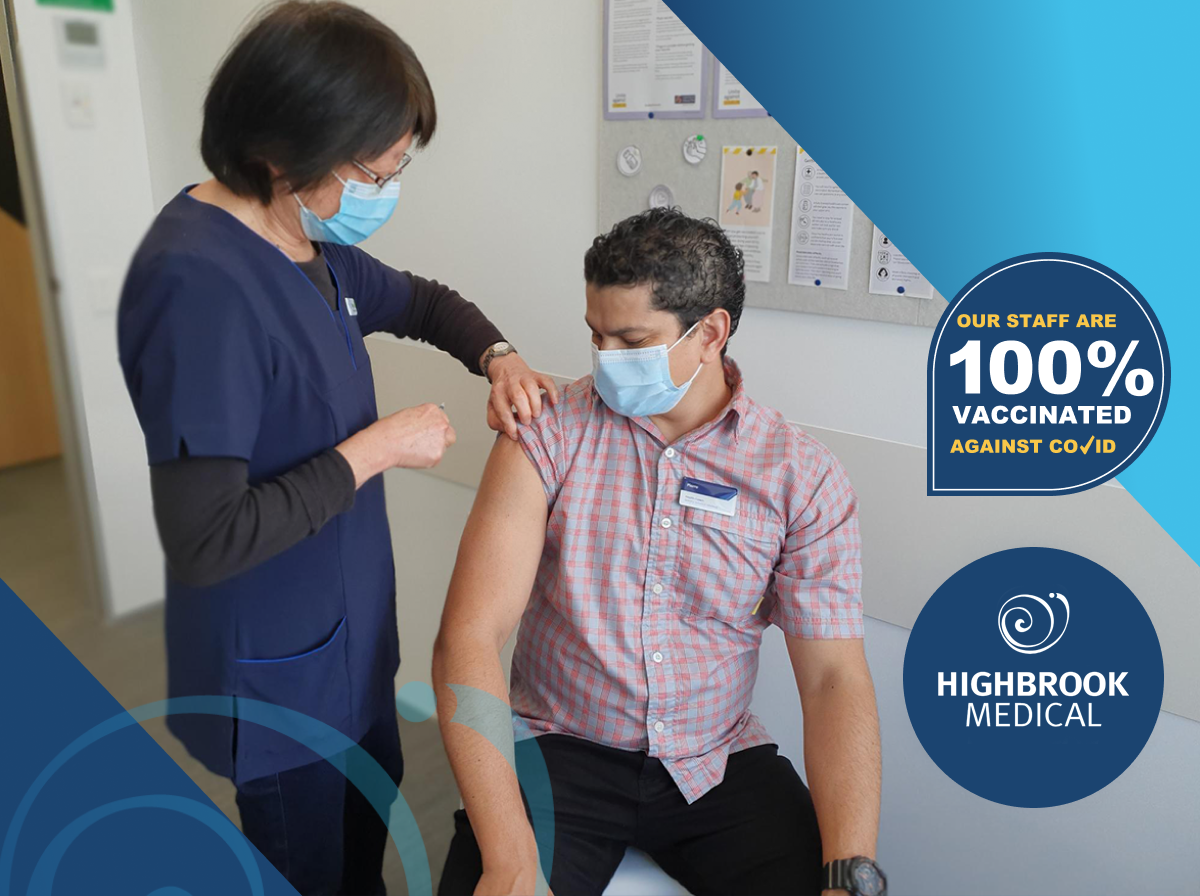 Our staff are 100% Covid-19 Vaccinated
September 27, 2021 6:38 pm
Proud to have a fully vaccinated team
We hit a great milestone of getting our staff 100% Vaccinated for Covid-19 this week. We've been encouraging our East and South Auckland communities to get vaccinated to build their immunity. It's important to us that we lead from the front.   So, all of our staff at our clinics have prioritised getting their second jabs, so we are fully Covid-19 vaccinated.
We're committed to 100% Vaccination across our clinics
Our sister clinics, Botany Junction & Ormiston Medical, and the team at Highbrook Medical are committed to maintaining our 100% team vaccination rate. Firstly, this means that we now have another way of protecting not just ourselves and our families, but also all of our community when they come to see us at any of our clinics.  We will continue with all the other good ways of protecting you. This includes wearing gowns and masks and washing or sanitizing our hands. We'll ask you to scan in with the Covid Tracer, wear a mask and keep two meters from other people while at the clinic. 
Secondly, we would love to ask you to join us to achieve another very important goal. Please help us make this happen.
Helping our community achieve a high goal too
We want to vaccinate as many people in our community as are able to have the vaccine. That is all of you over the age of 12 years!  It's a big target, but a very important one to reach.
It's really important because if you've had both doses of the vaccine are much less likely to get very sick or be hospitalised if you do get Covid-19. Also, when more of us are vaccinated, it will be harder for the disease to spread. 
Most importantly, by having the Covid vaccination you can protect your whole whānau.  This includes those young ones under the age of 12 who cannot be vaccinated yet but can still get sick. We know that Delta can affect all ages, so the best way to protect everyone from getting ill – from little babies to kaumātua – is to vaccinate.
Also, because our staff are 100% vaccinated, we can give extra protection to our kuia and koroua and people with long-term illnesses like diabetes, who are more at risk if they do get sick.  Protecting our loved ones and our neighbourhood is a team effort.
Still unsure about having the vaccine?
This is something we can achieve if we all get on board. But, if you are still a little unsure about having the vaccine, please ring to talk with us. Our staff speak many different languages and we are happy to listen to your questions. We can help you make sense of any confusing things you may have heard on social media or from friends. We are very open to hearing your worries.  We're sharing the content we think you need to know on our Facebook page, so follow us there for updates.
Staying focused on moving to Level 2
Remember, if you have even the slightest sore throat or runny nose call us to get tested for Covid 19.  We've done great work as a community in the last weeks. Keep your bubble small, shop and exercise locally, scan in and wear a mask.
Most important of all, come to get a vaccination. Reach out to all your family and friends to help them feel comfortable about coming for a vaccination too. It is really our best way back to a more normal way of living, returning to work, attending activities, events and rejoining the community activities that we all love.
Finally, we want to extend our aroha to our amazing team for standing together in this goal of having our staff 100% vaccinated. It's no mean feat getting everyone onboard across 3 clinics, so we feel privileged to work with a team who stands behind each other in all aspects of their mahi.